By Edyn Blair
HOW TO: MAKE THE MOST OF AN EXPO
As performers we all want to take advantage of opportunities and find a way to connect with our fans and expand our reach. Usually, we use social media for this, however, expos are also a fantastic way to connect with fans and other members of the adult community. So, how can you start attending expos? How can you make the most of expos you attend? Here are some great ideas from a 9-year veteran of the show floor.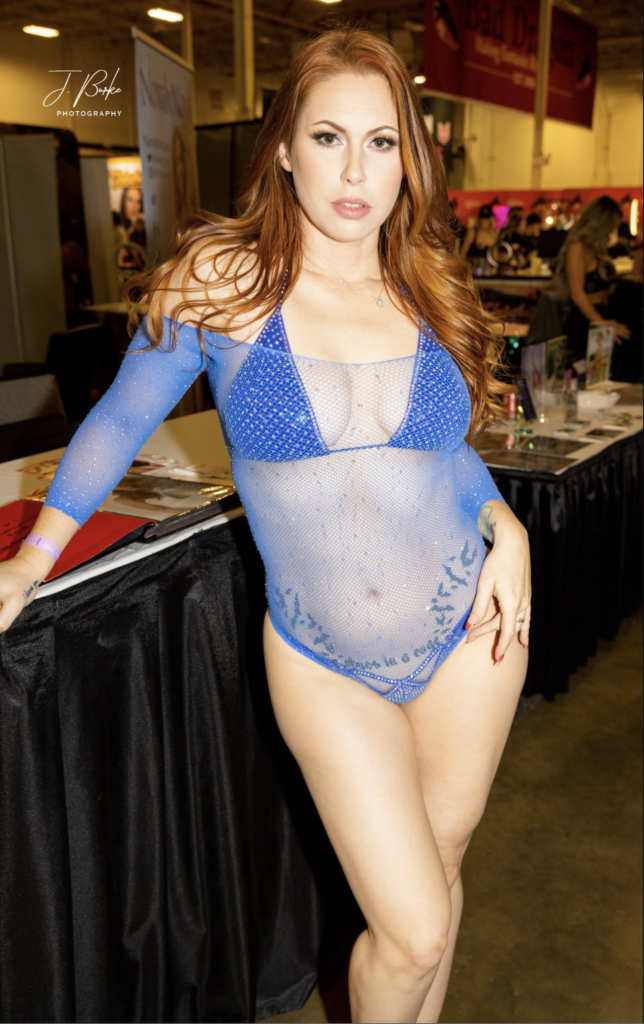 1. PLAN YOUR APPEARANCE
Figure out which shows you want to attend. Exxxotica Expos are one of the easiest ways to show up for your fans. They happen four times every year, beginning in the spring and going through December. These shows currently happen in Chicago in Illinois, Miami in Florida, Edison in New Jersey and Washington D.C. and AVN happens in Vegas in January every year. There are others but let's focus on Exxxotica for now. Often you want to schedule your appearance as far out as possible to give you time to prepare. Once you decide which show or shows you want to go to you may be asking yourself about how it works. Let's discuss the main way performers go to the show.
2. ATTENDING
Once you know you want to go keep in mind being paid to attend is incredibly rare and usually you only see it with performers at contract booths like Brazzers so don't have the expectation of having your expenses covered, it is possible but unlikely. It's best to find out what companies you work with or want to work with who are also going.
For example. Your Fans Live has a booth with slots open for their site creators to fill. If you are one of their creators you reach out to them on social media and ask to be slotted into the booth and if they have the space they will, it's that simple! As a performer the opportunity to have a signing space free of charge is the first thing that can save you money. A performer booth at Exxxotica can cost around $700 and you may get tucked away in a corner where it'll be hard for your fans to find you or for new ones to discover you. Having a spot at a company booth table means you don't have to pay to be there and you'll have better placement on a main isle so you can be found by fans new and old. Of course, you generally have to cover your travel expenses, hotel, meals, merch cost and anything else you may want to bring. These expenses can stack up and you may be asking yourself how do I pay for all of that? Here's a way to cut the costs or possibly eliminate them altogether.
3. THE COSTS
Once you know which show you want to go to, and you find a booth to work with at the show you have to get ready for it. Booking your hotel, your flight or driving, merchandise like 8x10s, costumes and more! It can get expensive but there are a few ways to save yourself and your wallet a headache. First, fill out the attendance form on the exxxotica website and let them know where you're going and with whom, this gets you a blog post on their site and some promotional images they send to you. From there you promote your appearance on your social media pages and your sites of choice. If you cam or have a subscription page with fans post there too.
Most performers arrive on Thursday before opening day and leave on Monday morning the day after the closing day, with 5 days of room fees it can get pricey! To cut the hotel cost down you want to reserve your room in the expo block as soon as possible, the rooms fill up fast and they have a discounted rate, and you pay when you check in. Then, you can find a industry roomie. Half a room cost is better than a whole amount. If you don't personally know someone who is going you can make a post looking for industry roomies. Sometimes you only have a room with them this one time or sometimes it works so well you plan future shows together. You never know how it'll work out but generally it's easy and you have someone to check in with and make sure each other is safe. If you have a roomie and the room is reserved under your name have them send the funds for their half to you the Monday of show week. I recommend checking in on the Thursday of show week so you can go to the mingle at the hotel bar that evening and get a jump on connections.
Once you start promotions and you figure out if you'll have a roomie then you can start doing a donation drive! Figure out the cost for each section of your fees, hotel, travel, costumes and run a drive for each segment. Give your fans something in return. Often you can do packages at the show like a multiple autographed photos of their choice and photos with you each day, meeting for a drink or a meal at the hotel restaurant are good too, all depending on their donation amount. If they aren't attending the show themselves but want to donate, offer a content package or a custom video in exchange for their donation. This not only helps you pay for some of your expenses if not all of them, but it also helps build great and supportive relationships with your fans.
Now that all of that is covered lets talk about the show itself and what you need to make the most of it!
4. THE SHOW
At the booth table you can make money! You can sell photos for autographs, charge to take photos with you or sell just about anything else you like. I've seen performers sell lap dances, their artwork, jewelry they made, personal worn items and more. Being friendly and energetic gets the attendees attention and you can easily make a few hundred or more each day of the show.
If you are going to be on the show floor, there are a few things you should get to make it easier for you and everyone else attending. Here is a list.
– A BANNER : These are about the size of a door, they pop up and are easy to travel with, if your going by plane they are slender enough to go in the closet in the front or in the overhead compartment if it has the length and just sit on top of the bags inside. These cost around $150 and you can get them at sites like Vistaprint. Banners are key as they are big! Choose an image with a simple background that fills the space that is sexy but SFW as this means photos of you in front of it can still be posted to Instagram. It the top your name should be nice and large so it is readable at a distance and I like to put the QR code for my link page on it as well. I only change a banner if my look changes drastically, you can easily use a banner for years before needing a new one. I've even sold ones I needed to get rid of at the shows multiple times.
– CARDS: Business cards work for this, I like to have two sets, one with a SFW sexy photo and my name on one side and the back will have my QR code, my email and my phone number. This card is to give to industry contacts only. The second Card (Fan) has a NSFW image with my name on one side and my QR code on the back, I set these on my table at the show for anyone to grab as they walk by and I make sure to give one to anyone who buys something or takes a photo with me. They are also good for the many industry and non-industry media photographers who take pictures of you as well. I also take about 10 to 20 of each with me in my bag to any afterparties I attend to give out as needed. I order 500 industry cards and 1000 fan cards; The industry cards usually last me the whole year or more and I have to reorder fan cards after each show usually. I also got these at vista print and have for years with no issue.
– PHOTOS: 8x10s are the standard, though you can add some 5x7s to sell a little cheaper if you wish. I recommend a company called Qprints.com, they will print ANYTHING you want no matter how sexually graphic and the stock paper they use is a satin finish that is perfect for autographs and they also turn it around in under a week and you have it to your door. Best in the market in my opinion, I've been ordering from them for 9 years! I do a mix of SFW and NSFW images. I also like to appeal to the collectors by doing limited runs of prints. Usually only 20 of each, I put them in a scrapbook type photo book that is hardcover and number them. I put one print on each side of each page and keep the rest in an accordion folder with each tab numbered to match the page the print is on. This makes the transaction and the fans selection quick and easy! I sell them for $20 for 1 and a basic photo with me, I also sell each additional print they purchase at that time for $10. It's a simple and easy way to upsell and make a little more. Also have Sharpies that are these colors with you, Black, Red, Blue, Silver/Gold. Collectors like red/blue ink specifically. So, I keep those just in case. I usually use black to sign photos and metallic ones for darker prints.
– FAN PHOTOS: A lot of people will ask for a photo with you or of you so be prepared and only do photos you are comfortable with. I charge $5 for basic photos with fans, just standing with them for a quick pic, but for $10 or sometimes $20 I do 4 pics, 3 naughtier ones where I might have them grab by butt or hold me up in their arms, etc. and 1 pic that is the basic pic.
– Doing fun naughty photos is an easy upsell and usually draws a crowd or gets attention from more people who will come over to get in on the fun. For MEDIA I don't charge them and do a few poses for them, I do double check that they in fact have a media badge. Many attendees walk around with big fancy cameras to take photos so double check, if they don't have a badge, I will charge $5 or $10 and do some poses for them. Basically unless they are media you should charge whether they are in the photo or not.
– ADDITIONAL AUTOGRAPHS: There are guys who take images of you they found online and will walk around with a STACK of photos and ask you to sign them all for maybe $20 or so, I don't recommend giving your work away so freely, they resell these images of you on eBay and similar sites. First, always go through the stack and make sure they don't have any photos that you own the copyright to, if there are some, refuse to sign them. Those are your images that they have without permission. They can keep them but will have to walk away with no signature. I like to charge $3-$5 per print for my autograph. They do sometimes complain that they paid for the printing etc. but prints are less than $1 and they often sell these for as much as $15-$35. Just something to be aware of.
– EXTRAS: I have seen performers selling everything from art to jewelry to t-shirts with their images and even the socks or panties they are wearing that day to fans. Price them however you wish if you choose to bring extra items.
– STICKERS: A recent popular item some performers giveaway and some charge for. It's up to you how you want to go about it. Some do like to put their Name and QR code on them as well.
– OUTFITS: This is where you can have the most fun! Dress to your personality and turn it up to 11!!! Lingerie and costumes are what everyone seems to wear, I've seen sexy fitted secretary dresses, sparky club dresses, rhinestone burlesque lingerie, stripper outfits, big heels, high top sneakers, sexy workout gear, cutoff shorts and a cut top, fetish gear and so much more. Just be yourself and pump it up and you can't go wrong! I try to wear something new to each show or mix and match something I already have. I do those donation drives I talked about to get new outfits and costumes. I pick things out specifically for the expo and put it on my Wishlist and make a post with a screen shot of the specific items I want for the show. This works well and helps reduce my costs even more.
At the end of the day I always cover the cost of my banner, merch, cards and such myself. I often buy my own meals but many of my (trusted) fans love to meet me at the hotel restaurant and buy me a meal. Breakfast, lunch or dinner.
Whatever I have time for. I love the chance to get to know them a little more and they love getting to know me more.
So, it's a win/win. But it's not something you need to do, so if you aren't comfortable then skip that option.
5. AFTER PARTIES
These parties are great opportunities to network and meet new people from the industry and fans alike. The media photographers are often there as well. Specifically, the hotel bar party. There are parties at the strip clubs with feature entertainers as well and if you know who is performing and want to show support than definitely go! I prefer to stick to the hotel bar where I can come and go to my room as I please or head up to hang out with friends. At the after-parties you can mingle and meet other performers you may not have the chance to bump into at the show otherwise and fans who may not have seen you that day might discover you and choose to come and see you at the show the next day. In short, opportunities abound.
6. SHOOTS
The final section is a big one. Shows are a very special opportunity to come together with performers to shoot with that you may otherwise not have been able to. Performers come to these shows from all over the country and you can schedule shoots around your floor schedule. Even if you don't shoot at the show you may end up scheduling one in the future. Some performers do trade at the shows and many also book paid work as well. Just another reason to make it to the shows!
One last piece of advice, get plenty of sleep and hydrate well. Being turned on 100% for 5 days straight can be exhausting so be sure to take care of yourself and have fun. I hope this guide has helped you if you are thinking about attending for the first time or given you some ideas even if you have attended one before. GOOD LUCK AND SEE YOU THERE!
p.s. If you have any questions, please feel free to reach out to Edyn on twitter @Edyn_Blair or Instagram @officialEdynBlair. You can find more about Edyn here.